FARM STAYS
In tune with the mood of the moment, the best B&Bs, guesthouses and country houses are the places to be, as travellers seek rest and relaxation alongside good food and good value in traditional hideaways in quiet rural and coastal locations.

And, unlike many of the mid-range hotels which may be offering similar prices, these gems hold the trump card of genuine Irish hospitality.

Staying on a working farm is a special experience and a real treat for families - we suggest just ten of the best of these wonderful places, of which great examples are to be found throughout Ireland.

Simply magic.


Temple House
Ballinacarrow Ballymote Co Sligo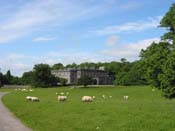 Home to Percevals since 1665, this vast and fascinating mansion may not have the most guest rooms (other well known 'farmhouses' able to accommodate much larger numbers would include Ballymaloe House and Longueville House, both in County Cork), but it must hold an unrivalled position as Ireland's largest farmhouse; it is set in 1,000 acres of farm and woodland and overlooks the original lakeside castle which was built by the Knights Templar in 1200 A.D. - an awesome thought. But the present house is a mere pup, having been redesigned and refurbished as recently as 1864 (some of the furnishings, including several original canopied beds, date back to that major revamp); the present incumbents, Roderick and Helena Perceval, bring their own brand of energy, warmth and enthusiasm to running this amazing house – and attending the traditional Irish music and dancing sessions held nearby is often part of the experience. A true country estate, this unique place offers many rural activities on site, including boating on the lake, fishing (fly & coarse), hunting, shooting, bird watching, walking, croquet and snooker – and there is much else to do nearby including golf, at Rosses Point, Strandhill and Enniscrone, cultural exploration, garden visits and great beaches. A member of the Hidden Ireland association of historic private houses, this is a farm stay with a difference.


Trean House
Tremone Lecamy Inishowen Co Donegal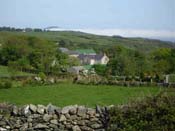 Way out on the Inishowen peninsula in wonderfully wild Donegal, Joyce and Mervyn Norris's farmhouse is tucked into a sheltered corner in stone-walled countryside beside the sea. Surrounded by a large garden with mature trees and welcoming flowers, it is a substantial house and offers a comfortable base for a relaxing away-from-it-all holiday in a homely atmosphere. Guests have the use of a cosy sitting room with an open fire and simple country bedrooms have everything that is needed - the only room without an en-suite shower room has a private bathroom nearby - and, if any other guest prefers a bath, it can be used by arrangement. Joyce's home cooking is another attraction - she makes breakfasts that will really set you up for the day; no dinners but Joyce will advise on the best places to eat in the evening. Ideal for a family holiday – there's a lovely beach just a few minutes walk away – for walkers, or anyone who enjoys quiet rural pleasures and a relaxed, away from-it-all atmosphere.


Flemingstown House
Kilmallock Co Limerick.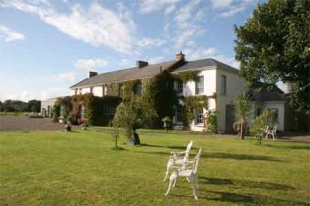 Imelda Sheedy King's welcoming farmhouse on the family's dairy farm, near the medieval village of Kilmallock, is the Guide's Farmhouse of the Year for 2009. The approach, up a long drive flanked by fields of grazing cattle, leads to an immaculately maintained front garden; the house, which dates back to the 18th century, has been sympathetically extended over the years and now makes a large and well-proportioned family home with spacious rooms, comfortably furnished with antiques. Imelda is a great host, offering genuinely warm hospitality - and she's also a great cook, as guests discover at a wonderful breakfast spread which has guests oohing and aahing with pleasure; communal breakfast at the huge antique mahogany table help guests to relax and communicate easily, as does Imelda's constant attention. It is a lovely place to stay - the standards of housekeeping, service and breakfast are remarkable, and it is representative of the very best rural Irish welcome. (Dinner is also available by arrangement).


Sea Shore Farm Guest House
Tubrid Kenmare Co Kerry.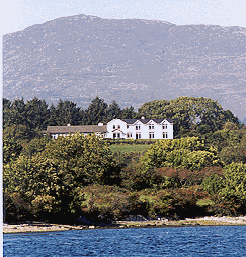 Expect a genuine welcome and spotlessly clean accommodation at this beautifully situated farmhouse overlooking the Beara peninsula, with field walks through farmland down to the shore. Mary Patricia O'Sullivan provides old-fashioned Irish hospitality at its best, with welcoming and efficient reception and accommodation that is not fancy, but homely and comfortable, with the considerate small touches that make all the difference to the comfort of a stay. A pleasant guest lounge has stunning views and Irish heritage books to browse, also plenty of information for visitors - and she is a veritable mine of local information herself, too. No dinner is offered but there's an exceptional choice of good eating places in the town, and a very good breakfast is served. Despite its peace and privacy, it's also conveniently located, just a mile from Kenmare town. Glen Inchaquin Park is also nearby, and not to be missed.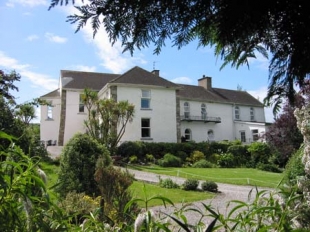 The Castle Country House
Millstreet Dungarvan West Waterford.

Set in several acres of landscaped gardens encompassing a circular walk overlooking the River Finisk, the Nugent family's unusual and wonderfully hospitable home is a substantial 18th century farmhouse built around the remains of a 16th century castle. Although most of the house seems quite normal inside, it blends into the original building in places - so, for example, the dining room has walls five feet deep and an original castle archway. Outside, you can visit the cellar of the original castle and, on the other side, view the rock on which the house and castle are built; and, as befits a farmhouse, you may watch the milking and whatever other farm activities are in season. Very comfortable, with meticulous housekeeping and beautiful food (served in a lovely room that's set up with crisp white linen and silver, more like a small restaurant than a farmhouse dining room, especially for dinner) this is a great place to stay - and, as befits a farmhouse, you may watch the milking and whatever other farm activities are in season. The setting is truly rural – beautiful, unspoilt West Waterford is on the doorstep – yet Dungarvan Town is close by, and the cities of both Waterford and Cork are convenient for day trips.


Killiane Castle
Drinagh Wexford Co Wexford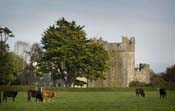 The Mernagh family's home is a real castle: the farmhouse and Towerhouse are 17th century and some of the 13th century Norman Castle still stands. Inside it's spacious and comfortable, with an open fire in the residents' sitting-room, a TV room and, up the 17th century staircase to the second and third floors; individually-designed bedrooms include two family rooms and have comfortable beds, en-suite facilities and great views over the countryside. Children will love not only the castle itself, but also the working farm - here visitors can see a modern dairy in action - and, although no dinners are offered, their own hens supply the eggs for the delicious breakfasts that Kathleen Mernagh serves buffet-style in a warm, cosy dining-room. In the evening Kathleen advises guests on the best local choices for dinner – the restaurants of Wexford are very near. Self-catering also available.


Maddybenny Farmhouse
Loguestown Road Portrush Coleraine Co Antrim BT52 2PT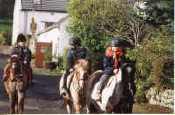 County Antrim – and especially the seaside resort of Portrush – is Northern Ireland's most popular traditional family holiday destination and, while the town itself may not be for everyone (especially in high season), anyone lucky enough to have stayed at the White family's farm will definitely be a fan of the area. Just two miles from Portrush, Madddybenny is a Plantation Period farmhouse and was built before 1650; much-extended and modernised, it is now a very comfortable and exceptionally hospitable place to stay, where people of all ages are thoughtfully catered for, with snooker, a games room and quiet sitting places for reading, as well as a garden and an area for outdoor games. Bedrooms have all sorts of useful extras (electric blankets, a comfortable armchair, a torch and alarm clock beside the bed…) and a family-run equestrian centre includes stabling for guests' own horses. Golf, fishing, tennis and pitch & putt are all nearby too – and, of course, the area's famous sandy beaches. No evening meals, but the breakfasts are legendary. Self-catering also available.


Glendine Country House
Arthurstown New Ross Co Wexford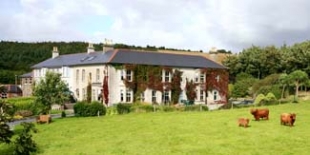 Ann and Tom Crosbie's large nineteenth century farmhouse has magnificent views across the Suir estuary. Offering a very comfortable and hospitable place to stay at a reasonable price, this spacious house would be ideal for a family holiday in the sunny South-East as there are sandy beaches nearby and there's a safe, enclosed playground for children beside the house - and they also enjoy the highland cows, Jacob sheep and horses kept in paddocks around the house, which they are allowed to feed (using food provided). The nine comfortable rooms are furnished to a high standard and offer a choice of style, (traditional and cosy/contemporary and bright), all with sea views. Service is a priority and the Crosbies take pride in giving guests advice on local amenities - and sending everyone off well-fed for the day after a really good breakfast; it's a far cry from the kind of B&B where you're expected to be 'out for the day', though, as you can pop back any time for a light meal. A la carte dinners are available, and other great restaurants in the area include the famous Dunbrody Country House (within walking distance), and Aldridge Lodge and Sqigl restaurants, both in nearby Duncannon. Self-catering cottages also available.


Ballyduff House
Thomastown Co Kilkenny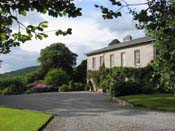 Kilkenny city is such a visitor magnet that many never venture out into the county but, with its beautiful rivers, fine trees and and lush rolling countryside, it is well worth exploring. Breda Thomas's lovely 18th century house overlooking the River Nore would make a good base - surrounded by its own farmland and grounds, it is blessed with an utterly restful location. Breda is a relaxed host who enjoys sharing her home with guests, and offers exceptionally spacious and comfortable accommodation in large period bedrooms with generous bathrooms and beautiful views over the river or gardens. Guests also have the use of large well-proportioned day rooms furnished with family antiques - and many return often, finding this rural retreat a warm and welcoming home from home. Fishing (salmon, trout), riding, hunting and other country pursuits can be arranged and there are beautiful walks on the estate. Jerpoint Abbey is nearby and there is plenty to do in the area including golf and numerous other activities at the nearby Mount Juliet Hotel and estate, and there are some exceptional garden visits including the gardens at Mount Juliet and Woodstock Gardens at Inistioge –where there is also excellent food to be found (Bassetts at Woodstock), and also several choices in the pretty village, incuding The Motte. *Self-catering accommodation is also offered at Ballyduff Castle, adjoining Ballyduff House.


Hillcrest House
Ahakista Durrus Bantry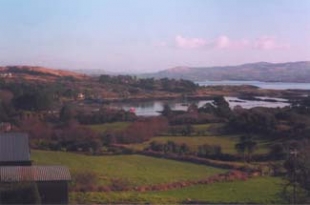 Hospitality comes first at this West Cork working farm overlooking Dunmanus Bay, where Agnes Hegarty's guests - including walkers, who revel in the 88km "Sheep's Head Way" - are welcomed with a cup of tea and home-baked scones on arrival. A former Farmhouse of the Year (2001), it's a traditional farmhouse with some recent additions, and makes a comfortable base for exploring the area, or for a traditional family holiday - there's a swing and a donkey on the farm and it's only five minutes' walk to the beach. There's a sitting room for guests, with television and an open fire, and bedrooms - either recently refurbished or in a new extension - have power showers or bath, very comfortable beds, electric blankets, hair dryers, tea/coffee making facilities and clock radios; two newer rooms are on the ground floor, with direct access to a sheltered patio, and parking close by. Fine cooked-to-order breakfasts will set you up for the day and, for the evening, there are plenty of good restaurants nearby, also pubs with traditional Irish music (evening meals are available for walking groups only). Some rooms in the house can be used for self-catering instead of B&B if required; self-catering cottage and farmhouse also available, all year.
Best places to Stay for...