GREAT WINTER DESTINATIONS
It can be hard to tear yourself away from the comforts of home during the colder months – but there's exceptional value to be had in winter, and lots of extremely comfortable places offering something special so why not start the year off with a treat. Try any one of these and you should return home refreshed and ready for anything.

Castlemartyr Resort
Castlemartyr Co Cork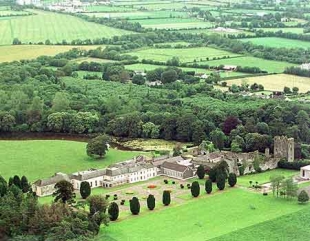 While its former connection with the Capella brand may have been a mixed blessing, it did mean that the Dromoland Castle Hotel team inherited a fantastically spacious, well-appointed (and high profile) hotel when they took over in 2009. Built around a 17th century manor and Knights Templar castle ruins, it's impressive by any standards – and, while still superficially similar, previously disappointed guests might consider a revisit: judging by our summer 2009 experience there have been seismic changes for the better under the new management. Vast guest rooms are extremely luxurious, even if your belongings are hard to keep track of (accommodation in the old house is on a more human scale), and facilities are excellent. But most importantly, under the management of Andrew Phelan (formerly at Mount Juliet), the hospitality is now genuine and – although there's been no change of chef – the food is living up to its promise, including an outstandingly good breakfast. Go, and luxuriate.


Tankardstown House
Rathkenny Slane Co Meath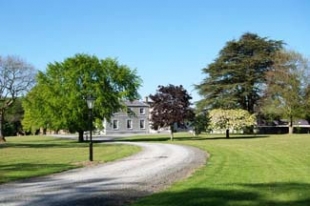 This amazing property near Slane has come an incredibly long way in a very short time – it's just seven years since Trish and Brian Conroy bought Tankardstown, acquired the surrounding 80 acres that originally belonged to the property and set about renovating it with the intention of using it as a family home. How things have changed... Now both the main house and the charming 18th century stable yard are available for individual bookings (or private use, for groups), they've opened two beautiful restaurants – The Bistro, which is stylishly informal, and the fine dining Brabazon Restaurant - and joined Ireland's premier marketing group, The Blue Book. Elegance and immaculate taste are the hallmarks of this beautiful property and being so handy to Dublin, it's the perfect bolthole for stressed out townies – and boy, do you have plenty to look forward to when you get there.


The Twelve Hotel
Barna Village Galway Co Galway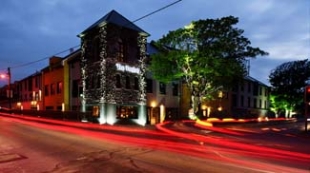 Whilst the late Tiger's big paw print is all over this seaside village, Barna has retained some of its old charm around the harbour area – and its location, handy to both Connemara and Galway City, is a huge attraction. And so is Fergus O'Halloran's unique hotel which, although only open since 2006, has achieved national recognition thanks to hands-on management and marketing by an inspired proprietor. Initially attracting attention for its contemporary style (a daring decision in an area known for traditional charm), Fergus's commitment to seriously good food and wine in all areas - including the adjacent Pins Bakery and bar food as well as the fine dining restaurant, West - is rightly earning plaudits for the hotel; most recently, West was selected as the November 'Just Ask' Restaurant of the Month in recognition of their dedication to showcasing local and seasonal foods. Accommodation manages to both cool and cosy – a lovely place for a winter break.


Whitepark House
150 Whitepark Road Ballintoy, Ballycastle Co Antrim , BT54 6NH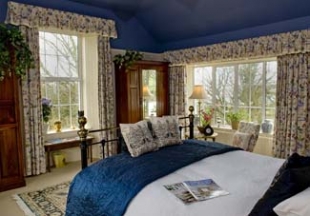 A stay at this pretty old house - tucked away in well-maintained gardens, yet with stunning sea views - would be the perfect introduction for first-time visitors to the beautiful north Antrim area. With famous golf courses, the Giant's Causeway, Bushmills Distillery, Rathlin Island and the Glens of Antrim among the nearby attractions, it's well located for exploring – although, given the warmth and comfort of the house, and proprietor Bob and Siobhán Isles' hospitable ways, it may be hard to tear yourself outside at all. The house was virtually rebuilt recently, to provide stylish ensuite bathrooms – and what a brilliant job they've done, each 'new' room seeming as if it's always been that way, so returning guests will find the atmosphere unchanged. Dinner is not offered at this former GCGuides Guesthouse of the Year, but guests are directed to nearby restaurants – and, as well as a perfect rendition of the traditional Ulster Fry, Bob makes a great vegetarian breakfast.


Doonbeg Lodge
Doonbeg Co Clare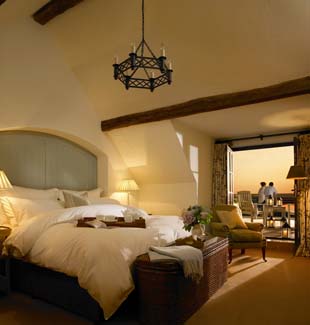 This place is not just luxurious – it's downright gorgeous. And summer visits have always made me want to return in winter, when the huge log fire in the hall would be especially welcoming. At any time the contrast between the wild west Clare landscape, the brooding sea and the classy interiors of The Lodge lends a romantic tone – and the House Manager's discreet way of doing things well underlines this: 'a relaxed country house atmosphere with an unparalleled level of the service' was the aim from the outset, and it delivers. Good food is a high priority and you can choose between fine dining in The Long Rooms, straightforward food like steaks at Darby's, or a meal in the clubby Members' Bar. Whenever golf, long walks or exploring the area (the Burren and Cliffs of Moher are nearby) are not to your liking, guests can retreat to be pampered at the White Horses Spa…


Harvey's Point Country Hotel
Lough Eske Donegal Co Donegal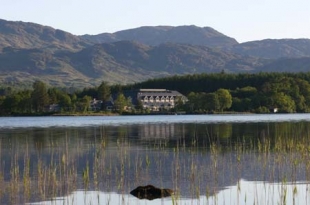 There's something about Donegal that begs a winter visit and, blessed with one of Ireland's most beautiful locations on the shores of Lough Eske, the Gysling family's friendly and well-managed hotel near Donegal Town makes an ideal base. It all started in the 1980s, with chalet-style buildings linked by covered walkways and pergolas - a low-level design allowing views of the lough and mountains. Since then things have scaled up somewhat and, although the enlarged hotel may be less sympathetic to the surroundings, it does offer spacious and luxurious new accommodation (with palatial bathrooms) as well as the original rooms close to the lake, which have a different appeal. Good food has always been central to Harveys Point, and you can check out head chef Paul Montgomery's menus beside a real fire in the bar. The fine dining restaurant has especially lovely lough views and has earned an enviable reputation, and a less formal alternative, The Steakhouse, has recently opened.


Kilkenny River Court Hotel
The Bridge John Street, Kilkenny Co Kilkenny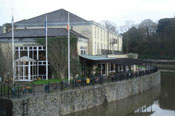 You won't find a handier place to stay in Kilkenny than this handsome hotel, which enjoys a superb riverside location right in the centre - and, although the surroundings are undeniably greener in summer, it makes a great winter destination as it has parking and, once installed, everything is within walking distance. It's a very pleasant hotel, with public areas arranged along the river frontage taking advantage of the view (the walls of Kilkenny Castle are directly opposite), spacious recently refurbished bedrooms, and a leisure centre with swimming pool. Short breaks usually include a meal in the elegant Riverside Restaurant, where the atmosphere is more restaurant than hotel dining room, a feeling confirmed by good cooking – and, for other nights, restaurants within easy walking distance include the city's best, including Campagne and Zuni.


The Ice House Hotel
The Quay Ballina Co Mayo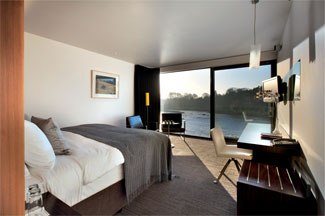 Contrasting with the old-fashioned comforts normally associated with this part of the country, this quirky hotel is a love-it-or-loathe it kind of place and, for the most part, visitors love it. Once the heart of Ballina's salmon industry, the 150 year old ice house is a lovely building, but the challenging site called for some creative thinking. The result is a funky mix of traditional (some of the cosier 'heritage' rooms in the original house have cute little balconies) and bold contemporary design in public areas, which is notably successful in the atmospheric light-filled Pier Restaurant – a great setting, for Head chef, Gavin O'Rourke (formerly of Peacock Alley) to wow guests with his stylish fare. And bring your binoculars when heading for this cool hotel, as the wildlife in the River Moy and wooded banks beyond the huge sliding windows of your room is perhaps its most fascinating feature - and could well keep you ensconced there in a comfy chair for longer than expected.


Hanora's Cottage
Nire Valley, Ballymacarbry, Co Waterford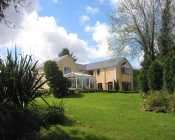 Tucked into the foothills of the Comeragh Mountains in unspoilt West Waterford, the Wall family's gloriously remote country guesthouse is a very special place. Equally appealing to foot-weary walkers or desk-weary city folk in need of some clear country air and real comfort, the genuine hospitality of the Walls is well-matched by the spacious accommodation and good food they provide. Weather permitting, it's a place to spend lots of time out of doors - the area is best known for walking, but there is plenty else to do, including pony trekking, fishing and creative holidays inspired by the natural beauty of the surroundings, such as painting and photography. But, with its open fires, comfy lounging spaces and warm, relaxed hospitality, it's no hardship being indoors either – and there are fantastic 'January Sale' offers on at the moment, offering great value for stays that include the legendary Hanora's breakfast, packed lunch for walkers and dinner in the restaurant, cooked by Ballymaloe-trained husband and wife team Eoin and Judith Wall. Take a couple nights here (at the very least), and you'll be well chilled out.


Cromleach Lodge Hotel & Ciunas Spa
Castlebaldwin via Boyle Co Sligo Tel: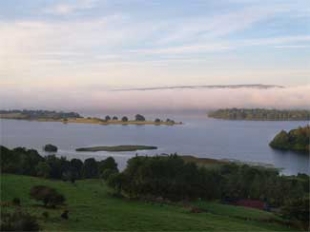 Although it's hardly a secret, well-kept or otherwise, the amazing thing about Cromleach Lodge is that it still feels like one – even after very significant redevelopment that has added the two new accommodation blocks that provide enough accommodations for the weddings they do so well. Maybe it's the influence of the extraordinarily beautiful location – as, quietly situated in the hills above Lough Arrow, Christy and Moira Tighe's very special hotel enjoys one of the finest views in Ireland. And, most importantly, the Tighe family and their staff have the magic ingredient of genuine hospitality, doing everything possible to ensure comfort and relaxation for their guests - which is one reason why it is noticeable that people travelling alone feel at ease here. It certainly continues to make a quietly luxurious retreat – due, in no small part, to the exceptional food in the restaurant, Moira's, where everything, from the first amuse-bouche to the last petit four is a treat - and, as in all aspects of this exceptional place, service is flawless. Independent travellers (ie those not attending an event such as a wedding) will be happiest in one of the original rooms, which are nearer reception, very spacious, recently upgraded – and have beautiful views.
Best places to Stay for...